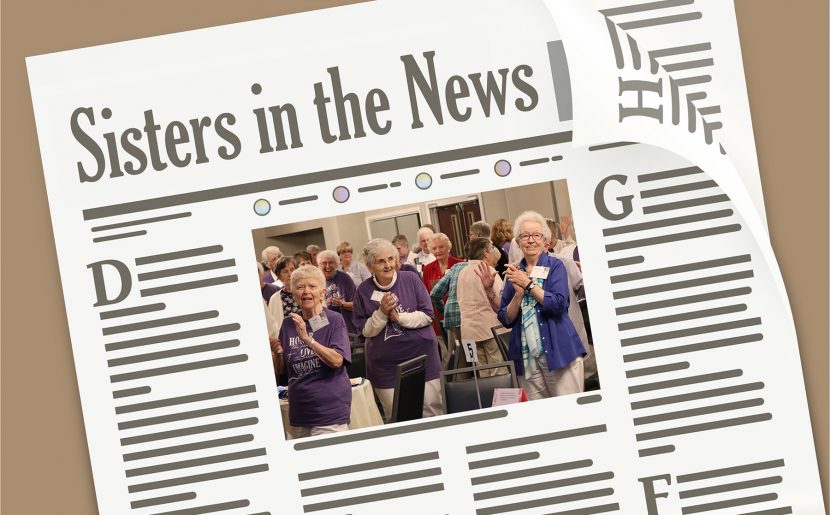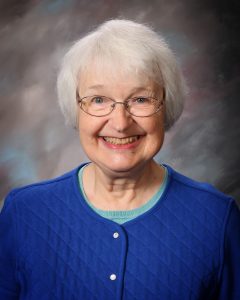 Rose Mary Meyer, BVM says she "had always been interested in legislation and government."
As director of Project IRENE (Illinois Religious Engaging in Nonviolent Endeavors), she meets with legislators and tells them why they should support bills that would help the poor, the imprisoned, immigrants, women, and children.
She explains how she advocates for vulnerable people in Illinois in a question-and-answer interview in the Global Sisters Report. globalsistersreport.org
"A lot of people call us lobbyists, but we say we're advocating to change systems, so we call ourselves advocates," she says in the interview. "When we're advocating for a bill, we believe in it and do research we know is accurate. The legislators appreciate getting that information from us, and we appreciate and learn in talking with them."
Click to read more: Rose Mary Meyer, advocate for vulnerable people in Illinois 
---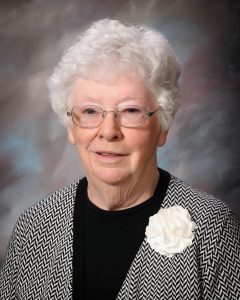 The story of the Diocese of Phoenix's first half-century cannot be told without its Catholic schools, according to The Catholic Sun newspaper. And the education system cannot be chronicled without the account of Arizona's women religious — the sisters from over four dozen orders who taught thousands of students in those schools.
The Sisters of Charity of the Blessed Virgin Mary opened Xavier College Preparatory in 1943.
"Amazing things have taken place in Phoenix since I arrived in 1962 and Sr. Raphael in 1963," Xavier President Joan Fitzgerald, BVM, told the audience, referring to Loreto Sister Raphael Quinn, IBVM, principal at Ss. Simon and Jude Cathedral School. "Tuition was $14 a month, and there was a $10 late fee. You could rent your books for $6 a year. Grade-school sisters were paid $35 a month, and high school sisters $70," Joan recounted.
Click to read more: History of Catholic education in diocese tied to religious sisters
---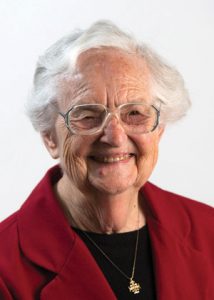 Jean Dolores Schmdit, BVM, better known as Sister Jean, won a Gutenberg Award from the Chicago Bible Society in October.
The award honors people whose life best exemplifies the teaching of the Bible and who have made a positive contribution to the understanding of the Bible.
Sister Jean's award says: "The Gutenberg Award is presented in recognition of her leadership roles at Loyola University Chicago and Mundelein College as academic dean of the college, associate dean of the university, and as chaplain to the Loyola Ramblers men's basketball team; in appreciation of her many years of faithful service in the Sisters of Charity of the Blessed Virgin Mary; in gratitude for her faithful witness for Christ in the academic and athletic community."
Sister Jean was one of two winners this year. Past winners have included Douglas MacArthur and Rev. Billy Graham.
---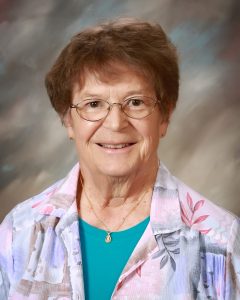 Theresa Caluori, BVM was one of the 540 men and women in Iowa to receive the Governor's Volunteer Award in October.
Since moving to Dubuque, Iowa, she has been involved in Catholic Charities Jail and Prison Ministry as a mentor, circle of support member, and as a circle leader. She also attends Drug Court every Thursday as an additional way to give support and encouragement to the participants.
"Circle members provide support, encouragement, and a listening heart to a participant on bi-weekly basis," Theresa says. "One of the purposes of Drug Court is to provide counseling and support to assist participants in looking at their addiction, to develop skills to address the addiction, and learn to make choices that will improve their quality life and to change behaviors."
As part of the program, participants also find employment and housing and address transportation needs.
"Recovery has many challenges and is a daily choice," Theresa says. "It is a privilege and honor to accompany someone during this time of recovery and offer support and encouragement as a person moves through the process and stages of recovery. Circles provide a place where participants can share their story with others and know that they will be accepted and valued and receive input as they choose to change their life."
In the past, BVMs Sara McAlpin and Mary Agnes O'Connor have also received this volunteer award for their participation in jail and prison ministry.