From the SALT Archives: Mount Carmel Mini Scholars
Sister Maryanita Cannon leads her French class in an action song. "La Grenouille (the frog) is a favorite with the children because they like to 'saute' (jump), 'nage' (swim), and 'chinte' (sing) like a frog."
About the Article
This article was published in Salt Magazine in 1978. Captions and text have been left in their original form as they were originally published.
---
Story by Helen T. (John Therese) Ryan, BVM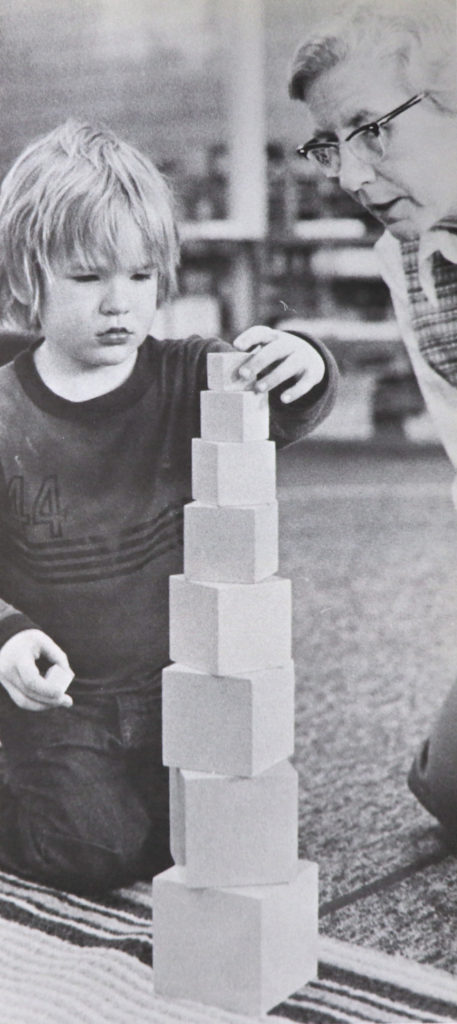 1978 marks the 10th anniversary of the founding of the Montessori Country School at Mount Carmel. On May 12 the school "graduated" its tenth class of mini-scholars.
It was Sister Kathryn Marie Reynolds who conceived the idea of a Montessori school on the Mount Carmel campus. On November 4, 1968, she opened the magic doors of learning to the children of the Dubuque area.
The original site of the school, a large room in Marian Hall, soon became inadequate for the number of students who applied for admission, so the school was transferred to its present home in the Mount Carmel barn. The barn had been renovated earlier as a recreation facility for novices, and the building, as well as its hilly campus, provided the space needed for work and play.
Sister Kathryn Marie continued as directress of the school until her death in 1971. Sister Mary Louise Callahan succeeded her and is still directing the school.
The aim of Montessori education is to cultivate the child's own innate desire to learn by developing his senses which are his natural tools for learning.
From prepared environment the children absorb information in delightful activities which lead them to investigate and learn from interesting surroundings.
Dr. Montessori emphasized that the hand is the chief teacher of the child. Concentration is developed by fixing the attention on a task being performed with the hand. All the equipment in a Montessori classroom allows the child to reinforce his casual impressions by inviting him to use his hands for learning.
The equipment used by the young child develops coordination, concentration, and working habits necessary for learning at a high level. The children gain an early enthusiasm for learning which is the key to becoming a truly-educated person. All the experiences are carried on in an atmosphere of freedom based upon responsibility.
In addition to the academic foundation through the Montessori Method, children also study French, music, and art.