Mary Frances Clarke Scholarship Recipient: Lissete Aracely Moyano Quimis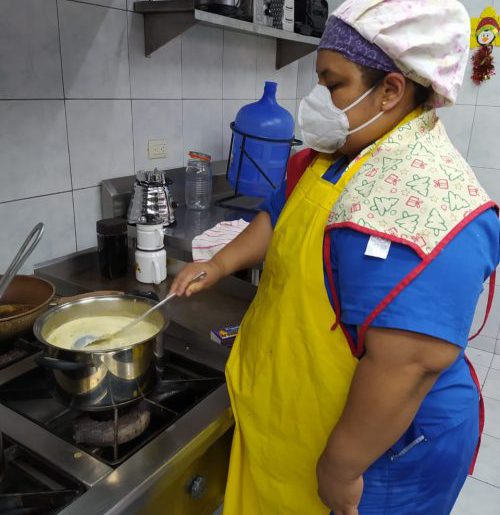 Featured in the winter 2021 issue of Salt magazine.
by Mary Glindinning
Seeing her family's struggle with illness and overcoming her own health issues convinced Lisette Aracely Movano Quimis that she wanted to be a nurse, because she wants to help others in the same situation.
She just needed assistance with the cost of education. So the young woman who works at Damien House in Guayaquil, Ecuador, was recommended for a Mary Frances Clarke Scholarship from the Sisters of Charity of the Blessed Virgin Mary.
"I have enjoyed my studies in the nursing program and would love to make it my career," Lissette writes. "I hope that someday I can help someone else in need."
Damien House cares for those affected by Hansen's disease, historically called leprosy. Hansen's can be cured but has a stigma attached to it, which Damien House works to dispel.
"My mother was a Hansen patient and after treatment worked as a cook in the kitchen at the foundation." Lisette says. "I volunteered my services to help my mother when I was in high school. Now I am a cook in the kitchen."
Annie Credidio, BVM, founder of Damien House, highly recommended Lissette for the scholarship. She has sponsored 112 women.
"I am so very proud of Lisette because she has overcome so many obstacles in her own health and that of her family. She perseveres in her dream as she obtains her degree," Annie says. "She exemplifies someone that carries out the values of the BVMs with her strong desire to help those in her own community."
Annie says the Mary Frances Clarke Scholarships change women's lives, and she has seen the ripple effect of making education available to the poorest of the poor. Education helps lift not only the scholarship recipient, but her family and her community out of poverty.
"I am so proud to be part of a community that looks for long-term solutions to societal problems. One of the greatest gifts to Damien House has been the opportunity to have the scholarship recipients as volunteers," Annie says. "They are able to share their gifts with the staff and residents as we learn from one another.
"I am grateful to the BVM community for the change in the application process that now asks recipients to do service. During my interview with them their faces light up when they talk about the various service activities that they have been involved with over the past year. It is very obvious the impact that this service has on them. This is the start for them as they then become the conduits of change and examples for their communities."
Lisette is already using her education as she volunteers in her community to give immunizations, start IVs, and hold talks for young people with drug addiction. She is a compassionate caregiver, Annie says.
Despite working fulltime in addition to taking classes, Lisette is very energetic. During a COVID-19 lockdown, she spent an entire week at Damien House, where she cooked, did laundry, and even filled in for the nurses as they became ill with COVID-19.
"She shares her core value of charity as she recruits others to help her in throwing an annual Christmas party for an impoverished community. They work hard through collecting recyclable materials throughout the year to sell in order to give out food baskets, toys, and clothes," Annie says.
Lisette says her work and volunteering strengthen her respect and care for others.
"I feel confident that I am on the right path as I prepare myself professionally. For this I am extremely grateful to all of you and would like to express my gratitude to be able to continue my studies in the area of health, which I feel should be a basic human right," Lisette says. "My new career will give me the independence and freedom for a better future, for which I will always be grateful."
About the author: Mary Glindinning is a communications specialist for the Sisters of Charity, BVM in Dubuque, Iowa.
---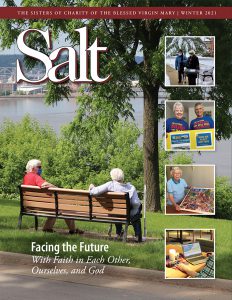 This story was featured in:
WINTER 2021: FACING THE FUTURE In this issue of Salt, we share how the Sisters of Charity of the Blessed Virgin Mary cope with COVID-19, persist in working for justice, and find partners to continue their missions, all while they look for creative ways to communicate, express gratitude, and pray for all the world's citizens and creatures.
If you would like to receive Salt, contact the Office of Development for a complimentary subscription at development@bvmsisters.org or 563-585-2864.