Ghana Library Started by BVMs Celebrates 10 Years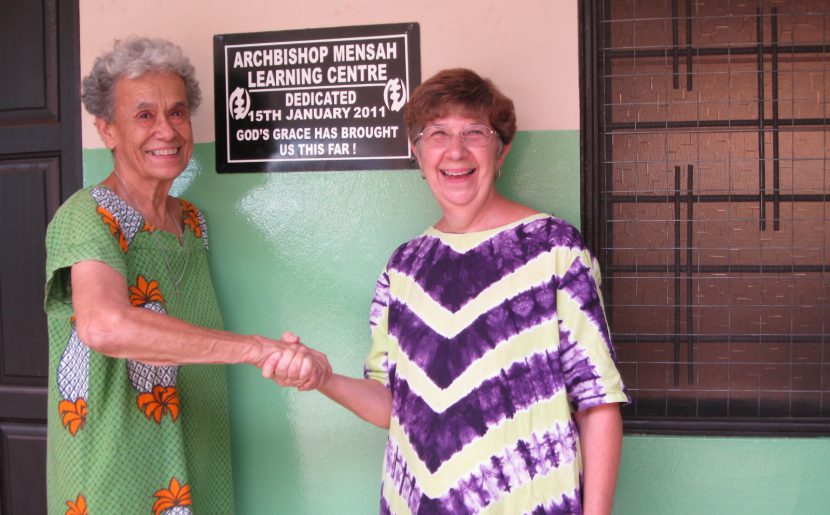 BVM Laurene Brady and Irene Lukefahr celebrate the opening of the Archbishop Mensah Learning Center 10 years ago. 
Many readers view every library as a miracle.
But the Archbishop Mensah Learning Center in Kumasi, Ghana, owes its existence to a string of miracles.
The library, celebrating its 10th anniversary, opened with donations from the Sisters of Charity of the Blessed Virgin Mary and their supporters.
The donations arrived just as they were needed, said Irene Lukefahr, BVM, who was ministering in Ghana in 2011 with BVMs Laurene Brady, Therese (Carmelle) Jacobs,  Jacqueline (John Kathleen) Cramer, and Mary Anne Hoope.
"Therese had a few children's books, and Laurene started a one-day lending library at the Centre for Spiritual Renewal (CSR) where Mary Anne served as director. It started with about 15 kids and they told their friends," Irene says.
The number of children increased rapidly and soon outgrew the space at the CSR. Laurene then asked to use a classroom once a week at the nearby St. Hubert Secondary School.
Since the school was too far to walk for the neighborhood children, BVMs used their front porch for a "second branch" of the library.
A Dream For a Library
And then Laurene had a dream, which she related to her sisters, saying they should build a library.
"Laurene's enthusiasm was so great" that they started applying for grants, Irene says, including a $10,000 grant from the congregation.
"There are so many miracles in this story," Irene says.
When Irene was visiting BVMs in California, they helped design a flyer to raise money for the library, and Irene took them with her to a prayer group.
Associate Bob and Lisa Sutter (a librarian) took a flyer and made a matching $10,000 grant. Diane Brondyke, then director of development for the BVMs, would call and say, "Are you sitting down?" with news of more donations.
Jan Powers, touring Mount Carmel, opened her purse, took out her checkbook, and made a contribution, saying one of her grandchildren is part Ghanaian.
The same serendipity happened as they started looking for board members, contractors, and architects.
BVMs believed "God must really want us to do this," Irene says.
When they met with Archbishop Mensah, for whom the library is named, he greeted them with, "What wind of the spirit brings you here today?"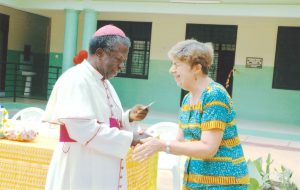 He donated the land. When the library was dedicated, he received the first library card.
"By the end of the first year, we had 800 children who had come, and 796 had never used a library before," Irene says.
In the United States, sisters, associates, and students ran collections, fundraisers, and book fairs for the library.
The last payment was due and they did not have the money.
And then they did. "There was this couple who had been faithful donors. The woman had entered the convent at the same time I did in 1961. I had not seen or heard from her since she left as a junior novice," Irene says.
Diane made another of those 'Are you sitting down?' calls. The couple donated stock, and the value was the same as the last payment.
"If Laurene had not had that dream, that library would not be in existence," Irene says. "We could not have built the library without the development department and the congregation."
The building was finished on time and paid for on time, a dream come true, with a few miracles along the way.
---
How the Library Came to Be: Related article from the Fall 2009 issue of Salt
Bringing a Library to Birth in Ghana
by Laurene Brady, BVM and Irene Lukefahr, BVM
Education!
BVMs, blessed with excellent educational opportunities, are aware of the profound importance of education for the development and quality of life of people everywhere.
On a daily basis, we witness the negative consequences of a lack of education for people in our own and distant lands. Our God has led and continues to call BVMs to Ghana where, for over 22 years, Mary Anne Hoope, BVM has educated countless clergy, religious, and laity to serve the global church.
Presently, BVMs Therese (Carmelle) Jacobs, Laurene Brady, Jackie (John Kathleen) Cramer, and Irene Lukefahr minister in various aspects of education in Kumasi, Ghana.
Literacy Programs Lead to a Better Way of Life
The need for education in Kumasi is critical and the resources are very limited. Of the adult Ghanaian population, 42 percent (50 percent of women and 33 percent of men) are unable to read and write.
Many adults and children in Kumasi have migrated from other regions of Ghana and speak varied dialects but lack the opportunity to learn English, Ghana's official language. Being able to speak, read, and write English is a priority for empowerment.
Kumasi, with a population of approximately 1.5 million people, has few adult literacy programs and only a handful of libraries.
The BVM Library Program Abounds
In the midst of this reality, the dream for a library/literacy center is slowly coming to birth. In December 2006, Laurene Brady began sharing donated books with 10 to 12 children who came once a week to the Centre for Spiritual Renewal. With only word of mouth advertising, 30 students were soon coming for books, so a larger space was secured at St. Hubert's Secondary School.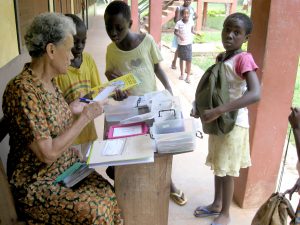 By September 2007, 60 children were coming and Irene Lukefahr joined Laurene in this library ministry. A second site on the front porch of the BVM residence opened for the children in the neighborhood. By October 2008, the numbers swelled again. Presently, 150 children from 12 different schools use the "porch" and classroom libraries on a regular basis.
As the numbers grew, students from St. Hubert's were recruited to help the younger children learn the many aspects of "library etiquette." These volunteers are trilingual and serve as translators for younger children who are learning English. We could not manage the library program without them!
Family, friends, and our BVM sisters and associates have generously donated books or funds to purchase new and used books locally, which we do on a regular basis. However, even with all this help, "newcomers" are often told to come back another week when there might be enough books, space, and volunteers to accommodate them.
The second component of our educational ministry is adult English literacy. Laurene teaches women and men who have never had the opportunity to attend school. Most the literacy teaching takes place on our "front porch" and is scheduled around the students' work hours. Here also, word of mouth has expanded this part of the program from three persons to 17.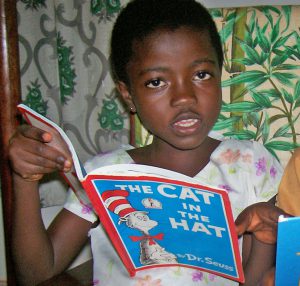 The Next Step Builds on the Future
Now we are at a new juncture, needing more space and needing the space more often. Before our dream for a library/literacy building becomes a reality, we need to establish ourselves more firmly in the community, procure the use of a room to be used exclusively as a library and adult education center, equip it, and train local people to staff paid and volunteer positions.
We are blessed to have received a grant from the BVM Ministry Partnership Fund and are also seeking other funding sources. We are very grateful that seven Ghanaian women and men serve on a recently established board of directors.
Slowly our dreams for a library/literacy center is coming to birth. We are moving forward.
About the authors: Laurene Brady, BVM is a volunteer tutor for the Diocese of Kumasi. Irene Lukefahr, BVM works in the ministry of presence. Both reside in Ghana, West Africa.