Former BVMs Remain 'Sisters' for Life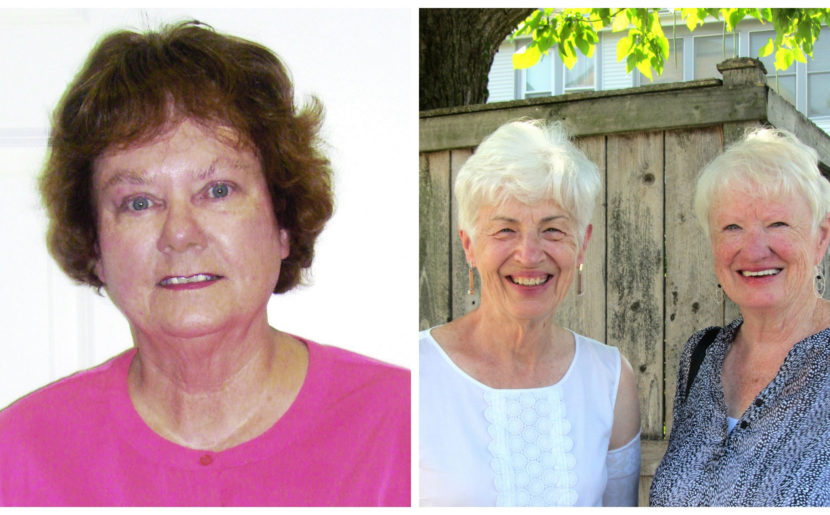 A remarkable group of women—known as former BVMs—are living out the BVM charism and still walking with their "sisters" in spirit along diverse and rewarding paths.
Their roots in the congregation served as a foundation for the lives they went on to lead, and many of them return to Mount Carmel each year to celebrate jubilees with set members or mark special events.
Who are these women? Many have maintained close friendships with their sisters; some have become BVM associates; most all remain connected to the community in love and support.
Marianne Littau attended St. Jerome and St. Gertrude elementary schools in Chicago and became acquainted early on with the BVMs. As a student at Mundelein College, Chicago, she shares, "The wonderful BVMs who taught me were intelligent, caring women, very professional and committed to seeing us grow as women who could do and be whatever we wanted."
By her senior year, Marianne knew she wanted to join the community and teach mathematics. She taught at Mundelein, completed her master's degree in math, and directed a program for adult women returning to college.
"After leaving the community, I worked in finance at a large corporation," says Marianne. "I guess I haven't strayed very far from numbers in some form."
Marianne feels that she gained a lifelong interest in learning from the BVMs, as well as a commitment to social justice, an interest in other cultures, and self confidence.
"I continue to receive great support from the BVMs," she says. "Two years ago, I contracted a serious autoimmune disease . . . I have recovered almost totally. Through the long process, I have felt the support and prayers of BVMs and former BVMs . . . and am immensely grateful."
Marianne adds, "Given my feelings about BVMs and all the ways my life has intersected with the life of the community, I can't imagine not supporting them. I value all the ways the BVMs have helped me grow and develop as a person."
Jean O'Keefe did not meet the BVMs until her high school years at Our Lady of Peace in St. Paul, Minn. "I experienced superior teaching and met many religious women who impressed me with their strengths and talents," she says. She entered the BVMs in 1964, driven by "a sense of service and commitment to something larger than myself."
Jean spent 13 years in the community. Then, "no longer feeling called to a life separate from the broader faith community" Jean decided to leave. She went to work in the marketing field. "The BVMs gave me a great sense of my abilities and of the value of community in all walks of life," she says. Jean remains close to the congregation and has stayed connected to many of the women who entered in 1964. She supports the BVMs because "I believe the community has and continues to do good work and supports the good work of others."
Like Marianne, Mary Hardiman-Desmond first encountered BVMs in elementary school, at St. Dorothy in Chicago. She remembered the BVMs as "happy women" and a group of "incredible educators." She entered the community in 1965.
"We were young women anxious to make a difference in our world," Mary recalls. "We became 'other-centered,' grounded, and emotionally and spiritually alive."
Mary feels that her set formed a true sisterhood which has stood the test of time for the last 50 years. "Our time in community was an incredible period of growth for all of us. My time as a BVM helped to make me the woman I am; the values, commitment, and my choice to work with the less fortunate all stem from the incredible women I had as role models."
In leaving the community, Mary shares, "I never felt that I was truly leaving, but rather, carrying with me all that I had learned from the BVMs."
Mary became a public school teacher on the south side of Chicago. "I loved making a difference in the lives of kids whom others had given up on," she says.
She married her husband Mike in 1976; they have two children and a new grandchild, who is "a special gift of love."
Mary feels that the BVMs challenged and guided her into becoming the best she could be. "I will always support the BVMs and thank God that they supported me."