IHM Sisters Graduate from Divine Word College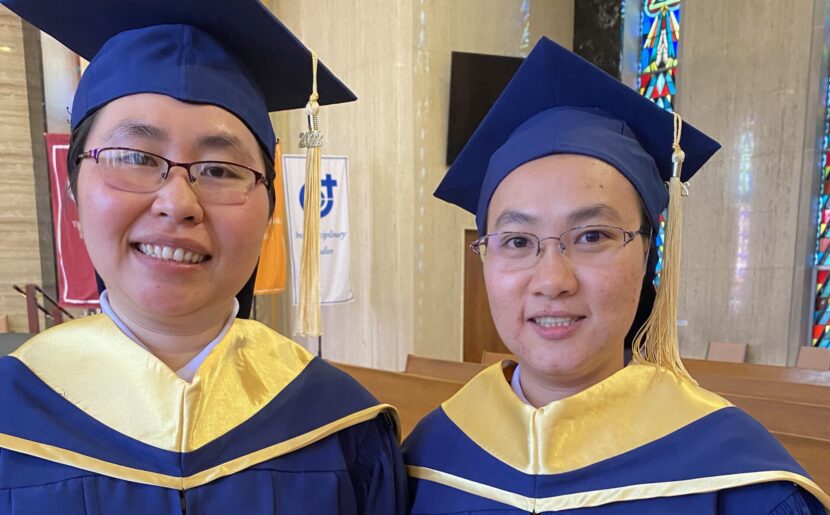 IHM Sisters (l.) Tuyen Nguyen Thi Thanh and Tram Tran Thi Thu graduate from Divine Word College with B.A. degrees in Intercultural Studies and Theology.  
Sisters Tram Tran Thi Thu and Tuyen Nguyen Thi Thanh received their B.A. degrees in International Studies with minors in theology from Divine Word College in Epworth, Iowa, on May 13. Both sisters—members of the Immaculate Heart of Mary Congregation (IHM), Nha Trang City, Khanh Hoa Province, Vietnam—live with the BVM sisters in the Motherhouse at Mount Carmel Bluffs (MCB). The BVM community welcomed the sisters in summer 2016, deciding it was a way to continue the congregation's education ministry. 
Living in community reminds the IHM sisters of their own convent family and find it to be peaceful. Initially, they shared an apartment with BVMs Mary (Agnes) Crimmin and Marion (John Patrice) Murphy. Later, they lived with Dolores "Dee" (Dolore) Myers and Betty (Leonice) Voss until COVID-19 struck. Now, Tram and Tuyen share an apartment with Diem Ngo and Liem Nguyen—Vietnamese Sisters who have also moved to the Motherhouse to attend Divine Word College.
Dee shares that hosting the graduates has been a "rich, big experience." She says that it has been wonderful to have their youthful perspective on life and that it's "been a real gift for us to share our home with these young women and to support them in their studies. But really, they have given us so much more in return with their joyful and loving presence."  
BVMs have witnessed the IHM sisters' love, hard work, and dedication. "They've reminded us of what is really important," Dee says. BVMs have enjoyed watching the women grow in their faith, studies, and speaking abilities. "They've succeeded in learning, speaking, and writing in another language. Now, we all enjoy lots of conversation. We always want them to visit with us." 
Tram shared her B.A. Capstone presentation with the BVMs, discussing, "The Elderly Sister and Mindfulness." The sisters were captivated and touched by Tram's desire to return to Vietnam to work with the elderly. "I have learned a lot from the sisters here," she says. "God knew this was the best place for me to learn and grow." 
Tram and Tuyen consider themselves "lucky" to live with the BVMs. Both graduates plan to stay at MCB while they pursue master's degrees in social work this fall at Clarke University in Dubuque, Iowa. 
Dee describes our IHM Sisters as full of kindness, goodness, and gentleness. "We have been blessed to live globally with them here. We learn love when we are open to the Universal love . . . it gives us bigger hearts."