BVM Endowed Scholarships: 'If you can read this, thank a teacher!'*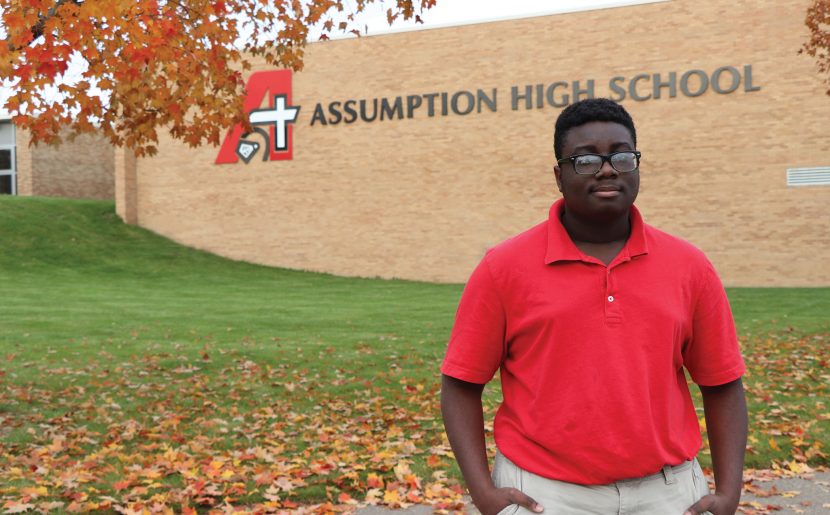 . . . it's cool that the BVM Sisters and their supporters pitched in to help us all out."
— Student John Foli, Assumption High School
For 185 years BVM Sisters have been motivated by their Foundress Mary Frances Clarke's progressive philosophy of education that excluded no one regardless of ability to pay. After moving from Philadelphia to Dubuque in 1833, the Sisters of Charity of the Blessed Virgin Mary opened nearly 300 elementary and secondary schools and two colleges across the U.S.
"Early on, BVMs identified the pivotal and liberating role learning often plays in the lives of those shackled in poverty," notes Kathryn (John Laurian) Lawlor, BVM, a congregational historian.
BVM schools flourished for more than a century, but as vocations to religious life diminished in the late 1960s, the number of sisters in classrooms declined. Some schools where BVMs taught ceased operation; others were placed in capable lay hands. "Many of the lay women and men who teach at and administer those schools were themselves taught by BVMs, so the academic quality and values lifted up by Mother Clarke and generations of BVMs continued," comments BVM President Teri Hadro.
With an eye toward the future, in 2017 the congregation established an Endowed Scholarship Fund with the help of generous donors and BVM funds for mission. BVMs intend to continue their educational mission by establishing scholarships in one school in each of the 37 dioceses in 22 states where BVMs formerly served. To date, BVM scholarships in 14 dioceses are in place.
"It's an ambitious project," comments Teri. "The projected total cost is nearly $1.5 million. We see this as an investment in quality education for the future; the returns are incalculable and priceless!
"The early BVMs and those who followed understood how foundational a good education is for the development of the whole person. Fundamental skills and, as important, solid values and a tangible experience of God's great love provide grounding for success as an adult.
"We hope these endowed scholarships will achieve three things," Teri sums up the project. "We wish to make a Catholic school education possible for economically challenged students, to witness that we continue our mission of quality education with the help of alums and friends, and to leave a lasting footprint in locales where we served."
Teri concludes, "The BVM legacy will forever be tied to our core value of education and our mission of assisting others to know God's love." The scholarships will honor former BVM teachers and "perpetuate the legacy and core values of all BVMs."
The BVM legacy will forever be tied to our core value of education and our mission of assisting others to know God's love."
Creating a Foundation of Support
As principal of St. Rose School in Wilmington, Ill., Linda Bland sees the importance Catholic education holds for her community firsthand.
Though her school has just 81 students, Linda shares that families stand together to volunteer and fundraise for the school, allowing it to be as self-reliant as possible.
"We have such great families," says Linda. "Grandparents have gone to school here, and they want that for their grandchildren and for their own children."
Despite this support, Linda does worry about the future. She receives many heart-wrenching calls from parents who share that tuition is a struggle or question if the school is going to stay open.
At one point, the conversations moved her to pray, "God, if you want me to keep doing this job, you've got to give me some signs." Not much later she received a phone call from the BVM Sisters. Her school was selected for a BVM Endowed Scholarship.
"I'm just so grateful," says Bland. "We're just a small school with great teachers, great families, and wonderful students. We just hope to keep it up, and every little bit helps us."
St. Rose was the only school opened by BVMs in the Diocese of Joliet and was selected as a scholarship recipient in honor of the BVMs who served in the diocese over the years. Nearly 50 BVMs served St. Rose from 1948–2015.
Growing the Next Generation in Faith
At another recipient school (Assumption High School in Davenport, Iowa), freshman John Foli is grateful.
He acknowledges that without the help from a BVM scholarship, he couldn't attend his Catholic high school.
"Since my parents were born in Africa, they couldn't really get a decent job when they moved to America," he shares. "They both work factory jobs, so it's hard for them to pay tuition."
A Catholic education means a lot to John because it teaches students like him "how to be good people now and in the future."
"I think it's cool that the BVM Sisters and their supporters pitched in to help us all out," says John. "It really shows how much people care about the younger generation growing in the faith."
Assumption High School was presented with the scholarship as a way to preserve the long-term BVM presence in the Diocese of Davenport. BVMs served at Immaculate Conception Academy from 1859–1958. The Academy closed when the diocese opened Assumption High School where BVMs taught for many years.
The BVM legacy of education continues with every student recipient of a BVM scholarship. In honor of the thousands of BVM teachers who loved their students, these scholarships continue to do what five women in Dublin set out to do more than 185 years ago: to provide an education to young people in need.
*Quote by Harry S. Truman
---
To learn more about BVM Endowed Scholarships or to make a contribution,
contact the office of development: development@bvmsisters.org or visit: bvmsisters.org/online-donations.