From the Mount Carmel Archives: BVMs Partner With Clarke University for USO Tours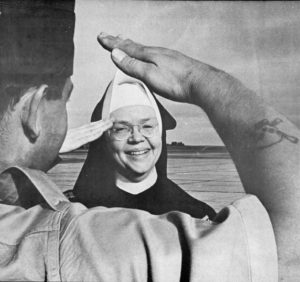 As we approach Memorial Day, once again attention turns to the men and women who have served in the United States military. Many members of the military remember with fondness the various entertainers who, through the United Service Organizations (USO), traveled overseas to bring a little piece of home to them. BVMs Xavier Coen[1] and Therese Mackin (Jeremy) made several USO tours to Europe with members of the Clarke University drama and/or music departments. Xavier wrote extensively about her USO travels and several of these articles are found in her file in the Mount Carmel Archives.
In 1964, Clarke University was one of seven schools invited to tour European bases under the auspices of the American Educational Theater Association (AETA) and the USO. Fourteen girls from the drama department, two male musicians (one from Clarke and one from Loras College), and Xavier and Therese flew to Europe on a military air transport service plane. Over the course of eight weeks, "Coffee House Theater" was presented 75 times, primarily in southern Germany. Three years later, Xavier took a similar group to tour bases in Iceland, Greenland, Labrador, and Newfoundland. The group performed 50 shows in 50 days and traveled over 15,000 miles. However, this group was not the first from Clarke to visit the frozen north; in 1965, Meneve Dunham, BVM and Therese took "13 X13," a 13-act musical review by 13 members of the Clarke Music Department, to the Arctic circle.
The production consisted of songs, dances, skits and improvisations. Attendance would grow throughout the show as the GIs realized the production wasn't "churchy." But perhaps the biggest attraction for the GIs was the dances that the girls would have after shows or on their nights off. By necessity, each dance was "ladies choice" and the girls would change partners every two minutes to make sure as many young men as possible had a chance to dance. Xavier relates the story of how one young man looked at a girl, shut his eyes for a few moments, and then looked at the next girl—he was trying to memorize each face so he could have pleasant dreams that night.
Xavier often found herself serving as a counselor to the GIs, Catholic or not. One young man asked for her counsel on "mixed marriage"—he was Baptist and his girl was Lutheran. Xavier reassured him that "it's the same God, isn't it?" Another asked her if she thought he had "the call," as he was contemplating entering Union Theological Seminary after he was discharged. After their discussion, Xavier commented that she felt very ecumenical and that Pope John (and surely Pope Francis!) would approve.
Others came to her with more serious concerns. One young man asked to make a promise to her, because he knew if he promised a sister something, he would keep it. When Xavier agreed, he promised her he would not go AWOL that night; his father was ill and he did not have permission to return to the States. Another young man wanted to know if he could still go to heaven if he killed a man with a bayonet. He had had bayonet practice earlier in the day and was convinced that he could never kill anyone. Xavier emphasized how his job was to protect the peace and that he might be called upon to defend others. She wrote that she wasn't sure she persuaded him "of anything, but I think I comforted his doubts, at least for the moment."
Xavier Coens, Therese Mackin, and their troupe managed to bring a little bit of "home" to young men far from their families. One GI wrote to Clarke, after seeing one of the shows, that he and his fellow GIs often asked themselves: "Do the people in the United States really care? I cannot think of a better way of showing appreciation than by what Clarke's ambassadors gave us."
[1] BVMs Xavier Coens (author) and Mary Paulita Kerrigan (illustrator) collaborated on a book about this unusual venture. GI Nun was published in 1967 by P.J. Kenedy.
By Jennifer Head
Mount Carmel Archivist