'A Quilt Stitched with Love' The Names Project AIDS Memorial Quilt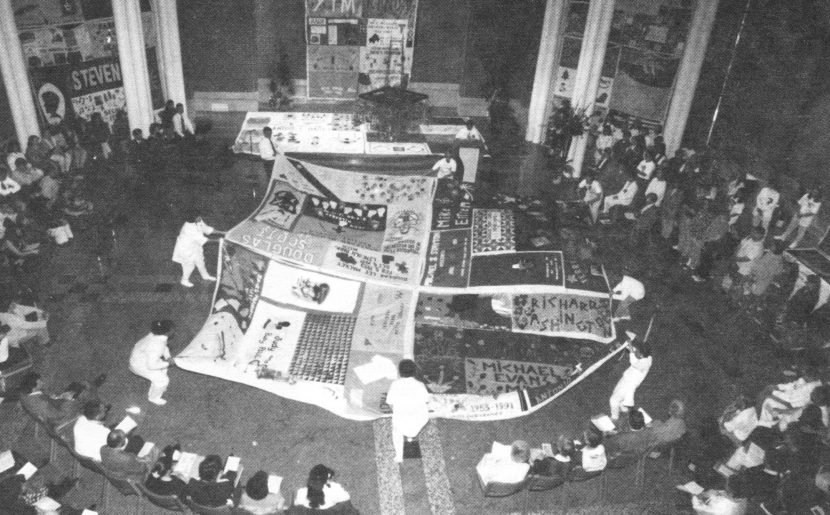 Clarke University students in Dubuque, Iowa, unveil panels of the AIDS Quilt during a moving prayer service in 1996.
Communities Make the Difference
"Communities Make the Difference" was the theme for this year's World AIDS Day on Dec. 1. In recognition of this day, BVM Kathy Carr recalls the AIDS Memorial Quilt that was on display at Clarke University in Dubuque, Iowa, in 1996:
"Though the Clarke display of the AIDS Memorial Quilt was 23 years ago, I remember it as clearly as yesterday. It was a profound experience for me, and for thousands of people from the Dubuque area! To observe people of all ages—the very old and the young—walking silently among the quilt pieces was truly a spiritual experience! Of course, one of the aspects that touched me most was helping to design the quilt piece for Frank, a family friend in Seattle—it helped to soothe the loss of a life gone much too early."
Read Kathy's original article that appeared in the Winter 1996 issue of SALT.
---
'A Quilt Stitched with Love' The Names Project AIDS Memorial Quilt
The normally bustling atrium and hallways of Clarke College were eerily quiet as thousands of people paused to reflect on the lives laid out before them . . . lives terminated by the disease of AIDS. Statistics took on faces . . . became real people . . . tore at the hearts of viewers.
The Quilt brought out many emotions in me. I realized how AIDS touches the families and friends of the people who have passed away."—Julie Bex
"The Quilt brought out many emotions in me. I realized how AIDS touches the families and friends of the people who have passed away. I also realized that AIDS is a real thing, not just something you hear about. When it is right in your face, you can't help but feel sorrow," reflected student Julie Bex.
Displayed throughout the Clarke atrium, hallways and chapel were 83 12'x12' sections of the Quilt, representing 644 death. The total Quilt contains over 31,000 individual panels, representing only 11% of the death due to AIDS in the United States.
The NAMES Project AIDS Memorial Quilt, evolving out of a neighborhood response to government inaction regarding the epidemic, has grown into an international symbol of love, loss, and hope. The Quilt is stitched together with the tears and sorrow of those who have lost family members, friends, colleagues, and neighbors.
Clarke College and its co-sponsors—the Dubuque Regional AIDS Coalition, Finely Hospital, and Mercy Hospital—displayed the Quilt as part of a worldwide effort to educate people about HIV and AIDS, and their prevention and effects.
AIDS has now become the leading cause of death among Americans ages 25–44. This statistic was not lost on Clarke student Jill Kreinbring. "The Quilt provoked emotion I didn't know I had. It was an overwhelming experience for me. It challenged me to ask questions about myself and to take responsibility toward trying to make a difference in community."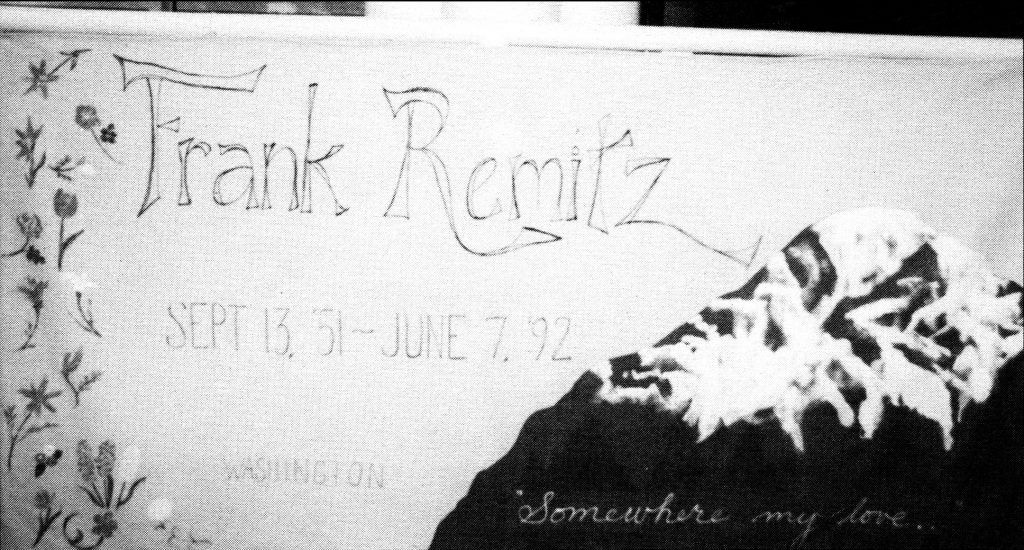 This newly stitched panel to the AIDS quilt was created by BVMs Kathy Carr and Vicki Smurlo to honor a friend of the Carr family in Seattle.
Over 5,000 people visited the Clarke display and almost 1,000 students, from kindergarten through twelfth grade, participated in education sessions sponsored by the Clarke nursing department. Hundreds of people attended presentations and cultural programs connected with the display, which culminated a nine-month process of education and fundraising, under the direction of Michelle Watters, Clarke College campus ministry.
In a moving closing ceremony, 31 new panels were added to the Quilt, representing the loss of family and loved ones in the tri-state area. It was a time of healing for families and friends . . . a time to grieve, to remember, to come together in support of love . . . in hope that one day there will be no more panels to add to the Quilt.
---
About the author: Kathy Carr, BVM is director of campus ministry at Clarke College in Dubuque, Iowa.