Gayle (Luellen) Brabec, BVM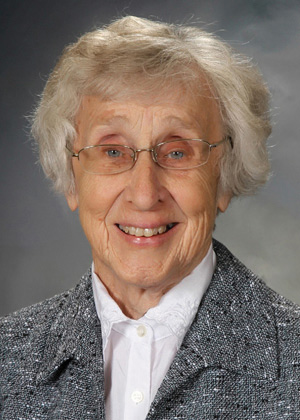 Sister Gayle Brabec, BVM, 89, of 1130 Carmel Drive, Dubuque, Iowa, died May 30, 2018, at Mercy Medical Center, Dubuque. Visitation, Sharing of Memories, and Mass of Christian Burial were Monday, June 4, 2018, in the Marian Hall Chapel.
She was born in Perham, Minn., on Sept. 21, 1928, to Paul and Lucy Frimml Brabec. She entered the BVM congregation Sept. 8, 1947, from St. Joseph Parish, Wesley, Iowa. She professed first vows on March 19, 1950, and final vows on Aug. 15, 1955.
Sister Gayle was director of the Rural Life Office for the Archdiocese of Louisville and director of The Life Center in Frenchburg, Ky. She served in rural life ministry for the Dioceses of Davenport and Sioux City, Iowa. She was a regional representative for the BVM congregation in Davenport.
As an educator, she was principal at St. John ES in Des Moines, Iowa, and St. Joseph ES in Butte, Mont.; she taught at St. Gertrude ES in Chicago; Sacred Heart ES in Boulder, Colo.; and St. Catherine ES in Kauai, Hawaii. In New York, she was the audio-visual coordinator at Our Lady of Loretto ES in Hempstead and St. Thomas the Apostle ES in West Hempstead.
She was preceded in death by her parents. She is survived by a sister Virginia Rice, Bridgeton, Mo., nieces, nephews and the Sisters of Charity, BVM, with whom she shared life for 70 years.
Memorials may be given to Sisters of Charity, BVM Support Fund, 1100 Carmel Drive, Dubuque, IA 52003 or make an online gift.
Download Eulogy
Download Wake Stories