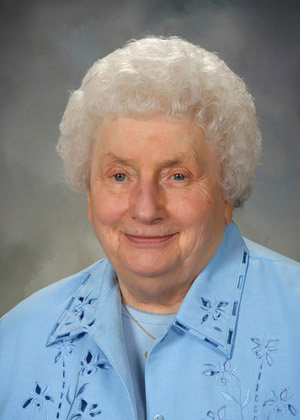 Sister Mary Enid Lodding, BVM (Enid) died on Friday, July 27, 2018, at Stonehill Care Center in Dubuque.
Visitation, Sharing of Memories and Mass of Christian Burial were on Wednesday, Aug. 1, 2018, in the Marian Hall Chapel. Burial was in the Mount Carmel Cemetery.
Sister Mary Enid was born in Chicago on March 14, 1927, to Edward and Lillian Lenick Lodding. She entered the BVM congregation Sept. 8, 1944, from St. Joseph Parish, Chicago. She professed first vows on March 19, 1947, and final vows on Aug. 15, 1952.
Sister Mary Enid was an elementary teacher in Illinois at St. Agatha in Chicago, Sacred Heart in Rock Island, and St. Anne in East Moline, and in Iowa at St. Mathias in Muscatine, St. Paul in Davenport, and St. Mary in Iowa City. She also taught at Our Lady of Perpetual Help in Chattanooga, Tenn.; St. John in Seattle, Wash.; and Queen of Peace in Portland, Ore. She was a pastoral minister at the Catholic Student Center and pastoral associate and director of religious education at St. Thomas More Parish, both in Iowa City, Iowa; pastoral associate at Our Lady of the Wayside in Arlington Heights, Ill; and director of religious education at St. Philip the Apostle in Addison, Ill.
"The pastor of St. Phillip the Apostle Parish wrote, 'Sister Enid has shared generously in the faith formation of our parish children. She has been an inspiration to her teachers, her students, and all who are challenged to do God's work. Her contagious laughter and joy were always in evidence as she shared her gifts unselfishly.'" (Eulogy, Marian Hall Chapel, Aug. 1, 2018)
She was preceded in death by her parents and sisters Lillian Kissane and Loretta Cassidy. She is survived by nieces and nephews and the Sisters of Charity, BVM, with whom she shared life for 73 years.
Memorials may be given to Sisters of Charity, BVM Support Fund, 1100 Carmel Drive, Dubuque, IA 52003 or make an online gift.
Download Eulogy
Download Sharing of Memories