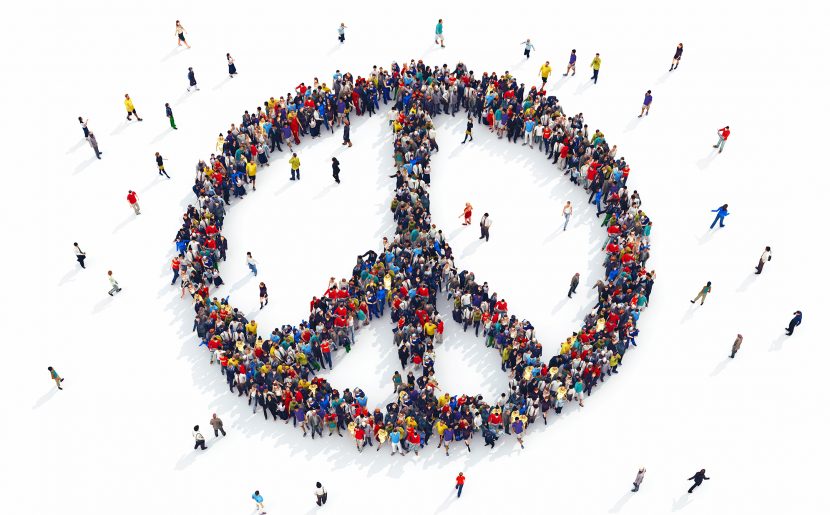 "Lord, make me a channel of your peace. Where there is hatred, let me sow your love."
These heartfelt words from the popular prayer attributed to St. Francis of Assisi have widespread appeal to people everywhere.*
"May the Lord give you Peace!" was the greeting Francis extended to everyone and to every creature that he encountered. Francis knew that it was God who gifted and revealed to him a "greeting of peace." He, in turn, beckoned his followers and people of good will to pay it forward! Francis desired to live out Jesus' repeated message of "Peace be with you" in the turbulent times in which he lived.
Today, the real work of peace engages us in active nonviolent ways. It causes us to open our hearts to a spirit of peace that dwells within and in turn radiates outward. It is purposeful and deliberate activity. It engages our heart and whole being to look at our relationships at all levels and to recognize that we are interconnected.
The late civil rights activists Rep. John Lewis and Rev. C.T. Vivian both embodied peacemaking through nonviolence in their long struggles for basic human rights for every person. I participated in a training on nonviolence facilitated by C.T. Vivian years ago and still recall his gentle and respectful presence and approach to each person in the group.
Inspired by Francis and his followers, I propose another verse to the Peace Prayer:
Make us a channel of your peace; open our hearts to active nonviolence. May the spirit of Peace fill our hearts and may our world be united as one."
Although these are lofty ideas, they call us to ponder how differently our world would look if we followed Jesus' and Francis' lead in extending a greeting of peace to each other (of course practicing social distancing).
And then I realized their lives of peacemaking have already changed my life and the world we live in now. In the midst of this pandemic, a new awakening of our sin of racism, and the tumultuous political environment, I invite you to extend a greeting of peace to everyone you meet. Continue the movement to pay it forward.
It does change the world and will change us.
*The prayer's origin is traced back to 1912 and was found in France. The author is unknown. It was widely distributed in English in the United States during and after World War II.