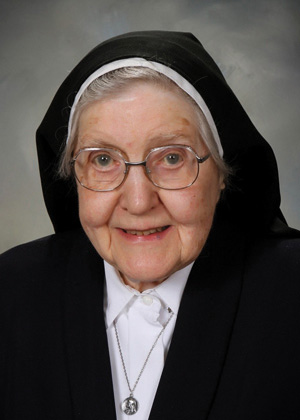 Sister Marilyn Thomas, BVM, 103, of 1050 Carmel Drive, Dubuque, Iowa, died Wednesday, June 5, 2019, at Marian Hall.
Visitation was Friday, June 7, in the Marian Hall Chapel followed by the Mass of Christian Burial. Burial is in the Mount Carmel Cemetery.
Sister Marilyn was a music and French instructor at Clarke University and an elementary teacher at Visitation School, both in Dubuque, Iowa.  She served as secretary to two congregational presidents and a Clarke University president.  She was treasurer, secretary, and organist at the Mount Carmel complex in Dubuque.  She taught music at Immaculate Conception Academy in Davenport.
She was born on April 11, 1916, in Davenport, Iowa, to Albert J. and Florence Mullane Thomas. She entered the BVM congregation Feb. 2, 1945, from St. Paul the Apostle Parish in Davenport. She professed first vows on Aug. 15, 1947, and final vows on Aug. 15, 1952.
She was preceded in death by her parents, sisters June Thomas and Dorothy Gardner, and brother Albert J., II.  She is survived by nephews Peter, Patrick, and Paul Gardner, David and Albert Thomas, niece Teri Stineman; and the Sisters of Charity, BVM, with whom she shared life for 74 years.
Memorials may be given to Sisters of Charity, BVM Support Fund, 1100 Carmel Drive, Dubuque, IA 52003 or make an online gift.
Download Eulogy
Download Sharing of Memories