Jane McDonnell, BVM (Bonaventure)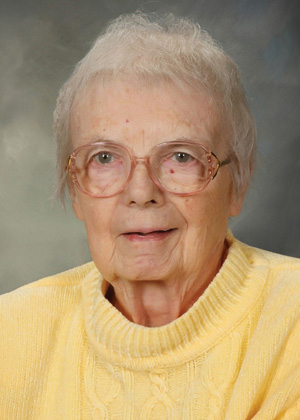 Jane McDonnell, BVM, 95, died Tuesday, Aug. 30, 2016, at Marian Hall in Dubuque, Iowa. Visitation will be from 9–11 a.m. on Tuesday, Sept. 6, 2016, in the Marian Hall Chapel followed by a prayer service at 11 a.m. Funeral liturgy will be at 1:30 p.m. Burial is in the Mount Carmel cemetery.
She was born in Marshalltown, Iowa, on March 17, 1921, to James Anthony and Mary P. Oliver McDonnell. She entered the BVM congregation Sept. 8, 1943, from Corpus Christi Parish, Fort Dodge, Iowa. She professed first vows on March 19, 1946, and final vows on Aug. 15, 1951.
Jane was on the faculty of Clarke University, Dubuque; and served in parish ministry at St. Edward Parish in Waterloo, Iowa. She was a secondary school teacher in Sioux City, Iowa; Chicago; and Glendale, Calif. She served in pastoral ministry in Medicine Lake, Mont.; Minot, N. D.; and Chicago.
She is preceded in death by her parents and sisters: Catherine Louise Sheehy, Billie Joanne Rodenborn, and Elizabeth Kiefer. She is survived by nieces, nephews and the Sisters of Charity of the Blessed Virgin Mary, with whom she shared life for 72 years.
Sister Jane McDonnell, BVM (Bonaventure)
Funeral Welcome
Marian Hall, Sept. 6, 2016
Good afternoon and welcome to the celebration of life of our Sister Jane McDonnell.
Mary Jane McDonnell entered this world on St. Patrick's Day in 1921, the perfect day to be born for a woman who was proud of her Irish ancestry. She was the first child of James Anthony and Mary P. (Oliver) McDonnell of Marshalltown, Iowa. After the birth of her sister Catherine, the family moved to Fort Dodge, Iowa, where Billie and Betsy joined the family.
Jane's father worked as a boiler and radiator salesman and was frequently on the road. During the week, her mother held down the fort. Jane described her as "a hard worker and serious, very devoted to duty, but very loving when she thought that the proper approach. She would keep a list of our transgressions and present the list to Dad on his return. He would immediately hand out correction, reproofs or harder punishments, depending on the offense. He called it 'supporting Mom,' and it was."
"I was a tomboy when I was young—loved any game that used a ball, but [I] liked reading and writing just as much as sports. I loved my father's stories and the wonderful world of books. All these preoccupations made my early life full and interesting." Her father instilled in her a love of history saying, "We're Irish, so we like history." Before leaving town, he would assign a chapter from a history book which they would discuss upon his return. "It was wonderful to spend [those] hours with him," she commented.
Jane attended Corpus Christi Academy in Fort Dodge. "I got an excellent education from the [BVMs] who taught there," she wrote. "They were good teachers. Best in my life was [Sister M.] St. Miriam [Casey], my English teacher. She gave me lots of extra work, carefully guided but not censored . . . When I graduated I was probably as good a prose writer as I am now [many decades later]." Jane continued her education at Clarke University in Dubuque, Iowa, on a scholarship and graduated with a bachelor's degree in English and history.
Being a religious never entered Jane's mind until the spring of her senior year in college. She had planned her life—write for a newspaper, then a magazine and then, down the line, write books. "All of a sudden, an urgent inner voice spoke to me about going to Mount Carmel," she wrote. "I couldn't believe it, got short of breath when I allowed myself to consider the path."
Jane entered the congregation on Sept. 8, 1943, and received the name Bonaventure upon her reception on March 19, 1944. Before entering the novitiate, her postulate mistress, Sister M. Angelice Sullivan, gave her some good advice. "[She] wanted me to promise her that I would be attentive to and a student of BVM history through my life. She had the feeling that it would be most important to me," recalled Jane. "The promise she exacted was a solemn one." Jane professed first vows on March 19, 1946, and lived 72 years as a BVM.
Jane taught high school English for 13 years at Cathedral in Sioux City, Iowa; The Immaculata in Chicago; and Holy Family in Glendale, Calif. She supervised students involved in journalism and often started writing clubs.
One experience while living in Glendale left a huge impression on her. She wrote, "There was to be testing of atomic weapons in the desert, over the mountains and about 300 miles from Glendale. The explosion would be big, the papers said. I got up about 4 a.m., went to the patio. The sky lighted up for several minutes and I heard a dull explosion. It horrified me. I never forgot that, prayed about it, decided that I needed to commit myself to some peace/nonviolent group, and joined the Fellowship of Reconciliation . . . [which] later became Pax Christi."
Jane returned to Iowa in 1959 to teach literature and theology at Clarke University. "It meant a lot to me to be asked to teach at my alma mater," she shared. A former Clarke student wrote, "I always respected her intellect, her sense of justice, and her ability to have a good laugh."
In 1979, Jane transitioned into parish ministry serving in Waterloo, Iowa; Medicine Lake, Mont.; and Minot, N.D. She also worked as the coordinator of an ecumenical peace and justice organization in Chicago. She returned to live at Mount Carmel in 1990 and spent the next 19 years as a volunteer researcher and writer in the BVM archives, calling it "a wonderful and exiting way to cap my interests."
Jane wrote, "One of the great interests of my life is, and always has been, writing—poetry, non-fiction information articles, feature stories, opinion pieces, etc. It is an interest, mainly, I suspect, because it matches a talent and an urge I have that is God-given. Like anyone who writes, I find it hard work, but the satisfaction I derive from it is relaxing, clarifying, and a way of exploring myself and my world that is right for me."
Jane penned over 2,000 poems, of which over 500 have been published along with numerous nonfiction articles and book and theatre reviews. Writing for BVM Vista and Salt provided her the opportunity to practice historical writing. She also served as an editor for Salt and Charting BVM History 1833–1983. About the impact of her work, Jane wrote, "Hopefully these pieces will contribute one little mosaic to BVM history, as these pieces have helped to shape the mosaic of my own life."
Reflecting on her religious vocation, Jane wrote, "Religious life is about a growing relationship with God as Father and Mother, with Jesus as Savior and Lover, with the Holy Spirit as the One who enlightens . . . and teaches." Her relationship with Jesus is beautifully reflected in her choice of Song of Songs as the first reading: "My lover speaks; he says to me, 'Arise, my beloved, my beautiful one, and come!'" How long she waited for Jesus to call her home! What joy must fill her soul!